Arkansas Gov. Asa Hutchinson launched a statewide plan yesterday to improve the health of all Arkansans. The plan, titled Healthy Active Arkansas, contains nine focus areas all tied to increasing the health of Arkansans through healthy dietary choices and increased physical activity.
Healthy Active Arkansas press conference (click image to watch)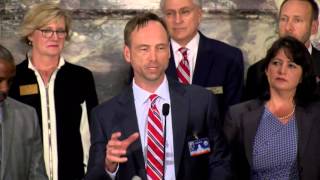 The nine focus areas are:
Physical and Built Environment
Nutritional Standards in Government, Institutions and the Private Sector
Nutritional Standards in Schools—Early Child Care Through College
Physical Education and Activity in Schools—Early Child Care Through College
Healthy Worksites
Access to Healthy Foods
Sugar-Sweetened Beverage Reduction
Breastfeeding
Marketing Program
The priority areas listed in the plan are modeled after Institute of Medicine goals outlined in their 2012 report Accelerating Progress in Obesity Preventions: Solving the Weight of the Nation. Each priority area outlines two-, five-, and 10-year goals to facilitate achievable successes in obtaining a healthier Arkansas.
"Healthy Active Arkansas is about the future of our state. We want to create a state where all Arkansans can lead healthy, happy and fulfilling lives." — Gov. Asa Hutchinson
The plan was developed via a series of facilitated discussions at the Winthrop Rockefeller Institute and included leaders in the field. It provides a framework of research-based strategies to guide community efforts to reduce obesity—a major factor in improving health. These are accompanied by recommendations for efforts that must be orchestrated on the state level.
The Healthy Active Arkansas plan is meant to be used by a wide range of stakeholders, including businesses, education centers, religious organizations, restaurants, city planners and more.
To read or download the full plan, visit the Healthy Active Arkansas website.